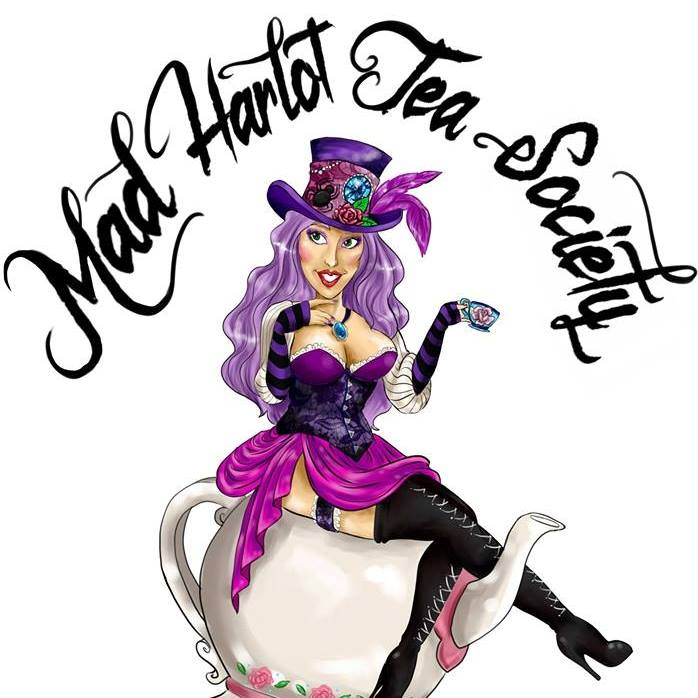 What is a Teatrix?
A Teatrix is well versed in Royal Tea etiquette,  leading conversations and discussions, tea history and is a knowledgeable tea sommelier and "foodie" and above all, knows how to throw a great party! She is what sets the Mad Harlot Tea Party apart from all the rest!!
Ms. Proper has been hosting tea parties for elite circles of women for over 20 years, and being unapologetically British, Ms. Proper is unabashedly the "Hostess with the Mostess." Her Guests leave each party, empowered, emboldened and inspired, giving her the nickname of "Inspiretrix". Sporting era-appropriate  garb, biting wit and a wicked sense of humor that makes all her parties exciting, memorable events.
Whether we come to you, or we host in a location of our choosing, a Mad Harlot Tea Society party is always an event to be remembered!
The Mad Harlot Tea Society, regularly host our own events ranging from Classic High Tea, small tea gatherings, full networking events over tea and scones, to the more raucous, such as a Girls Afternoon Out, or Bachelorette's Tea. As well, we can hold all these events at a location of your choosing, of course, none would be complete without the Ring-Mistress of Tea Time herself…Penelope Proper!
We Tea Harlots, also hold regular gatherings at different tea-time spots all over the Long Island and NYC area. These are meet-ups at tea houses, coffee cafes and local restaurants that offer cultural tea experiences. The small afternoon gatherings are a wonderful way to meet new people in a positive environment, through a shared interest in tea and conversation, as well as our favorite excuse to put on large hats and get fancied up!
Afternoon tea would not be the scrumptious adventure it is without the temptations of sumptuous delights to tickle the palette, induce pleasure in which to share with other tea lovers, and to satisfy the purpose of Social Tea.
That is why our selections for a Mad Harlot Tea Party are always chosen with care for tradition, enjoyment and pleasurable conversation!